Custom (R&R) Rebuild and Return Service
Providing courteous and friendly help just when you need it, our dedicated and competent employees have a combined 100-plus years of knowledge and experience in remanufacturing quality parts.
Starters
Water Pumps
DC Motors
Alternators
Distributors
GeneratorsAt our shop, we utilize the latest state-of-the-art testing available. All units are rebuilt to the highest quality standard and using high-quality proven parts. Rebuild and return service will be quoted a price before work is performed.

Technical & Diagnostic Assistance Available

Machine Shop Service available
One-Year Warranty On Standard Automotive Parts & Service
6-Month Warranty on Heavy Duty/Industrial Parts & Service
Removal and installation available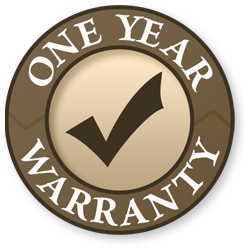 Quality | Service | Innovation | Integrity | Pride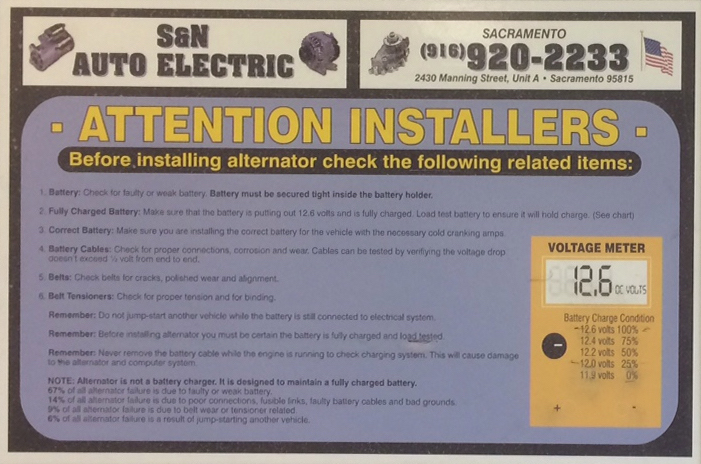 Before installing alternator check the following related items:
Battery: Check for faulty or weak battery. Battery must be secured tight inside the battery holder.
Fully Charged Battery: Make sure that the battery is putting out 12.6 volts and is fully charged. Load test battery to ensure it will hold charge.
Correct Battery: Make sure you are installing the correct battery for the vehicle with the necessary cold cranking amps.
Battery Cables: Check for proper connections, corrosion and wear. Cables can be tested by verifying the voltage drop doesn't exceed 1/2 volt from end to end.
Belts: Check belts for cracks, polished wear and alignment.
Belt Tensioners: Check for proper tension and for binding.
Remember: Do not jump-start another vehicle while the battery is still connected to the electrical system.
Remember: Before installing alternator you must be certain the battery is fully charged and load tested
Remember: Never remove the battery cable while the engine is running to check charging system. This will cause damage to the alternator and computer system.
NOTE: Alternator is not a battery charger. It is designed to maintain a fully charged battery.
67% of all alternator failure is due to faulty or weak battery.
14% of all alternator failure is due to poor connections, fusible links, faulty battery cables and bad grounds.
9% of all alternator failure is due to belt wear or tensioner related.
6% of all alternator failure is a result of jump-starting another vehicle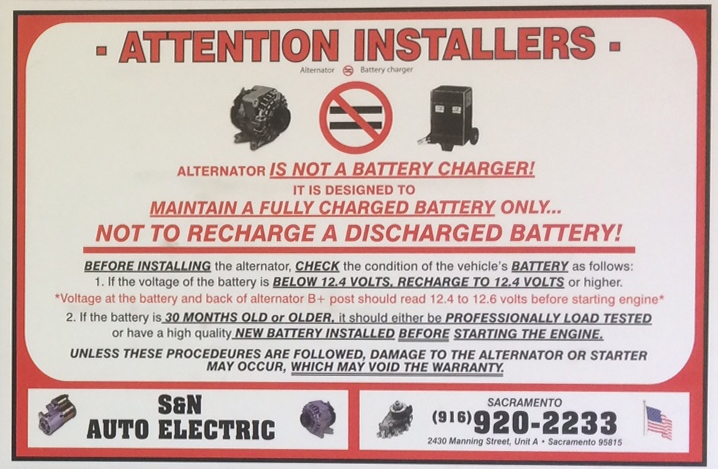 Alternator IS NOT A BATTERY CHARGER!
IT IS DESIGNED TO
MAINTAIN A FULLY CHARGED BATTERY ONLY
NOT TO RECHARGE A DISCHARGED BATTERY
BEFORE INSTALLING the alternator, CHECK the condition of the vehicle's BATTERY as follows:
1. If the voltage of the battery is BELOW 12.4 VOLTS, RECHARGE TO 12.4 VOLTS or higher.
*Voltage at the battery and back of alternator B+ post should read 12.4 to 12.6 volts before starting engine*
2. If the battery is 30 MONTHS OLD or OLDER, it should either be PROFESSIONALLY LOAD TESTED
or have a high quality NEW BATTERY INSTALLED BEFORE STARTING THE ENGINE.
UNLESS THESE PROCEDURES ARE FOLLOWED, DAMAGE TO THE ALTERNATOR OR STARTER MAY OCCUR, WHICH MAY VOID WARRANTY.